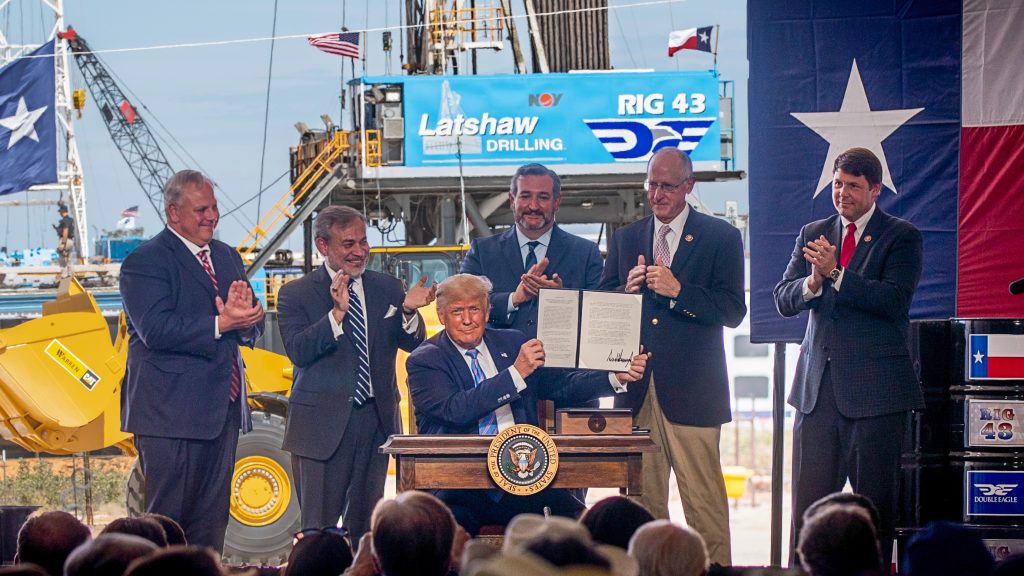 On July 29, 2020, President Donald J. Trump for the first time, paid a visit to the Permian Basin in Midland, Texas. It was a great honor bestowed on Latshaw Drilling and Double Eagle Energy to have the President of the United States of America deliver an important speech to our oil and gas industry with Latshaw Rig 43 in the background.
Trump began his speech by saying, "Thanks to the hardworking citizens like you, the United States of America is now the number one energy superpower anywhere in the world. So, congratulations." The President went on to say, "We're here today to celebrate your incredible achievements. We're also here to send a clear message to the zealots, radicals, and extremists trying to shut down your industry and to make America subservient to foreign producers. That won't happen to this nation again. It took a long time to be independent, and as long as I'm your President, we will never let anyone put American energy out of business, which is what they'd like to do. We will never again be reliant upon hostile foreign suppliers. We will defend your jobs, and we will defend the Lone Star State. I love this state and we will defend America's newfound energy independence."
The President commented that his administration is opening up 30 million barrels of space in the Strategic Petroleum Reserve, allowing American companies to store surplus oil to be sold at a later time.
At the end of his speech, the President signed critical permits granting approval for vital pipeline and railway infrastructure on our nation's border that would allow the export of Texas crude into Mexico.